From the day we began in 1896, our story has always been about people. Together, we forge our own path rather than follow short-term trends. We see change as an opportunity, not a threat. And we dare to seek new horizons, because they lead to real progress.
Our story is about people with the confidence to believe in themselves and trust in each other. We are driven by a bold entrepreneurial spirit to show curiosity. Think creatively. And shape the future rather than simply adapting to it. We are passionate about making exceptional things happen.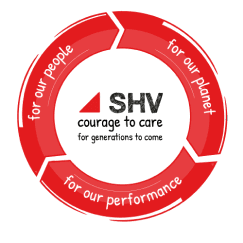 Our story is about people with a genuine determination to lead the way. We are inclusive, see the best in each other, and work with integrity. Never afraid to make tough choices, we stay true to our principles.
Above all, our story is about people with the courage to care for what we do. How we do it. And the impact this has on others, on performance, and on the planet. Always looking ahead. Always moving forwards.
Our story will always be written by people with the courage to care about a better world for today. And a better tomorrow for generations to come.
Our values
Integrity – Courage to stay true to our principles
Working openly and honestly, we never compromise our values to boost our results. Our values are visible in our everyday actions.

Trust – Courage to let people lead
Because of an unwavering belief in our people we entrust them with responsibility, giving them the confidence to take the initiative, develop themselves and embrace new opportunities.

Curiosity – Courage to shape the future
Driven by an entrepreneurial mindset, we explore different perspectives on the road to progress, while we listen, learn, and react to create and seize new opportunities.
Inclusivity – Courage to see the best in all people
We recognise the true potential in all people, welcoming everyone as valued members of our family. We actively contribute to a safe working environment built on respect for each other.
Passion – Courage to deliver the exceptional
Passionate about the ongoing success of our people, our business, and the communities around us.
A shared sense of purpose
We are tens of thousands talented individuals from all around the world. We are a family of companies active in various industries operating across continents. Our purpose is the glue that connects us.
A defined purpose makes the difference between knowing how we should go about our work and understanding why we are all proud to do so. A long-term vision supported by our shareholders.
Trusting our people
We take individual responsibility, trusting each other to put our best efforts into a shared success. Finding contentment in our work, we never shift blame onto others.
Putting people at the heart of our success
We invest in people by stimulating creativity, encouraging initiative and rewarding excellence.
Leading by example
We don't sit back and wait for things to happen. We go out and get things done.
Focusing on excellence
We keep things simple by minimising bureaucracy to enable people to pursue
excellence and focus on what's important. In doing so we manage change and
accept the risks of opening new horizons.
Valuing honesty
We work with transparency both as an organisation and as individuals. Good news may travel slowly, but bad news should travel fast. An honest mistake can always be the start of something better.
The courage to care means a promise to shape the future, not simply adapt to it. For everyone at SHV, every day provides the inspiration to create a better tomorrow for generations to come.