People have always been at the heart of the SHV story, a fact reflected in our purpose: "Courage to care for generations to come".
Our values, and our alignment with Sustainability Development Goal (SDG) 8, both promote ongoing, inclusive and sustainable economic growth; full and productive employment; and decent work for all. We pursue the development of a highly engaged workforce that reflects the makeup of the societies in which we operate, believing that diverse and inclusive teams better understand and reflect customers and stakeholders; enhance business performance; and work more creatively and innovatively.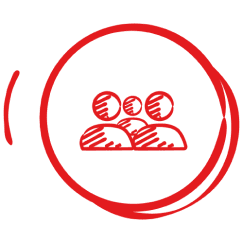 Equal opportunities
To build and develop a future proof and diverse inclusive workforce.
By 2030, we aim to see women occupy a minimum 25% of senior leadership positions, and senior management teams to comprise at least two different nationalities. This target will be continuously reviewed following external developments.
Full and productive employment and decent work for all goes beyond Diversity and Inclusion. It also involves the development and improvement of a wide variety of HR and HR-related processes to create an inspiring, safe, and considerate workplace. This is even more relevant in these challenging times dominated by COVID-19. All SHV Groups recognise and fully support this vision and Care for People is a top priority for all.
Good work conditions
To ensure safe and healthy working conditions.
Community Development
To drive sustainable development around us through education and knowledge.
Corporate social responsibility
We strive to help shape the future by driving sustainable development around us through education and knowledge, including supporting the sustainable and positive development of the society in which we work and live. To offer education is to make a long-term investment in people and, ultimately, in communities.
Through our internal campaign "Start from the Heart" we commit to investing in people through education.
With a presence in so many countries all over the world, our Groups are uniquely positioned to understand the challenges and needs of their local communities and are encouraged to initiate and support local projects. By supporting educational programmes, we enable people to support themselves.